Weather man said it's gonna snow
By now I should be used to the cold
Mid-February shouldn't be so scary
It was only December
I still remember the presents, the tree, you and me
But you went away
How dare you?
I miss you
They say I'll be OK
But I'm not going to ever get over you
Living alone here in this place
I think of you, and I'm not afraid
Your favorite records make me feel better
Cause you sing along
With every song
I know you didn't mean to give them to me
But you went away
How dare you?
I miss you
They say I'll be OK
But I'm not going to ever get over you
It really sinks in, you know, when I see it in stone
Cause you went away,
How dare you?
I miss you
They say I'll be OK
But I'm not going to ever get over you
_____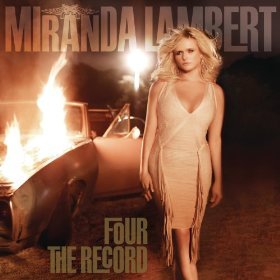 "Over You" is a country ballad written by Miranda Lambert and Blake Shelton about a personal experience Shelton had as a teenager when his older brother was killed in a car accident. According to Lambert, she decided to record the song because of Shelton's emotional connection to the song: "Blake said he couldn't record it for himself or sing it onstage every night, but he would be honored for me to."
It was released in January 2012 as the second single from Lambert's fourth studio album, Four the Record.
Lambert performed the song at the 2012 Academy of Country Music Awards on April 1, 2012.
This information is credited to Wikipedia:
http://en.wikipedia.org/wiki/Over_You_(Miranda_Lambert_song)
The Image on this page is credited to Amazon.com
Related Posts
Please Share